NEBOSH Health & Safety Management for Construction
Course duration: 11 days
Price per delegate: 1495.00 + VAT
Location: HCS Safety, Southampton
Price includes, NEBOSH registration, exam fees, certificates, course publications, lunch and refreshments.
Who is the course designed for?
The NEBOSH Health & Safety Management for Construction Certificate is aimed at Supervisors and Managers within the construction industry, who are required to ensure that activities under their control are carried out safely. It is the first step in a health and safety career and essential for those who wish to manage their company's health and safety within minimal assistance.
It is also likely to prove useful for individuals involved in the management of buildings, where there is a need to ensure that contractors are working safely.
What does this course cover?
The NEBOSH Health & Safety Management for Construction Certificate covers the main legal requirements for safety in the UK, whilst identifying and ensuring awareness of a range of workplace hazards, including methods of control specific to construction activities.
Laying the foundations for healthier and safer construction sites, qualification holders will also be better able to influence their on-site colleagues to work more safely; gaining the confidence and technical know-how to challenge unsafe behaviours and offer practical solutions.
Assessing Learning Outcomes
Delegates will need to complete 10 teaching days plus a mock examination/revision day.
Delegates also sit an Open Book Exam over a 48 hour period.
2942, 2942, NC October 2023 dates, NC-October-2023-dates.pdf, 70994, https://hcssafety.co.uk/wp-content/uploads/NC-October-2023-dates.pdf, https://hcssafety.co.uk/health-and-safety-courses/nebosh-course/nebosh-health-safety-management-for-construction/attachment/nc-october-2023-dates/, , 3, , , nc-october-2023-dates, inherit, 419, 2023-05-31 13:03:05, 2023-05-31 13:03:05, 0, application/pdf, application, pdf, https://hcssafety.co.uk/wp-includes/images/media/document.png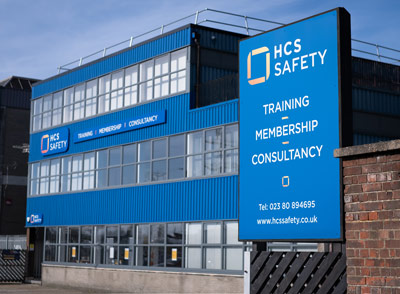 From M25- exit at J12 (M3), follow M3 South until is splits into M27 East/ West and follow the M27 Westbound until Junction 3. Turn left at the roundabout and join the M271. At the end of the road, take the 1st exit on the roundabout to join the A33 Millbrook Road West. Move into the middle lane and continue over Redbridge Flyover. Once over, move into the inside lane. You will continue through a set of crossroads with traffic lights. After approx. 300 yards you will see a slip road for the Solent Business Centre, directly after the TA. Turn into this road, and carry along, past Sparshatts until you reach a blue building. The car park is through gates on your left at the side of the blue building.