Ensuring a competent workforce is a legal requirement for employers, contractors, principal contractors and clients, and in many cases you will not get on site without the necessary health and safety training.
A competent workforce is one of the cornerstones of effective safety management. Trained workers and managers are more aware of the dangers that they face on site, and more likely to make good decisions. We believe that knowledge and understanding are the keys to improving site safety.
Your workforce will gain valuable knowledge that will be accurate, relevant and may just save a life. It will be delivered by practicing safety professionals who are fully aware of the challenges you face every day.
We understand that it can be challenging for your workforce to sit in a classroom all day, especially if they're used to spending the majority of their time outdoors. We're different to other training companies. All of our construction training courses promote full interaction with engaging course materials and plenty of group exercises to reinforce the knowledge that your people need to stay safe.
Our Training Courses are held at our Southampton Training Centre
Conveniently located- easy access to the M27/ M3, rail and bus.
To ensure your health and safety training is of the highest quality, we have invested in state-of-the-art-teaching technology, modern classroom facilities and up to date training for our tutors.
Our training centre is conveniently situated on one of the main arteries into Southampton city centre and is serviced by many public transport links.
There is a bus stop only a two-minute walk from our front door.
Millbrook Train station is a further two-minute walk away, and Southampton Central Station is 1.3 miles away.
A public 'Voi' e-scooter dock is only a five-minute walk from the training centre, and the network services much of the city centre.
We also have two electric vehicle charging points in our rear car park, which are free to use by delegates.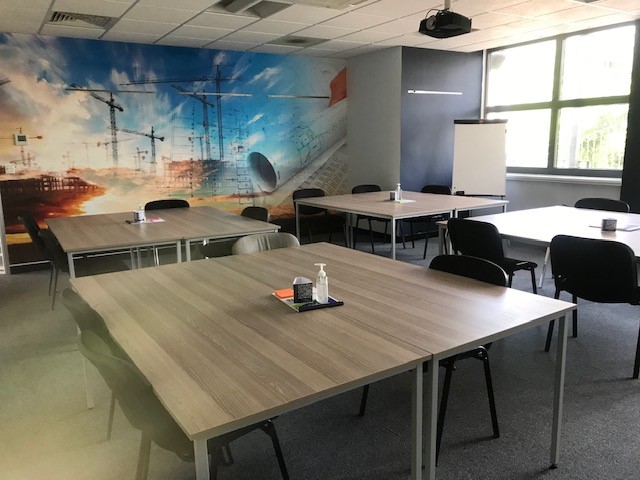 You may find it more convenient and cost effective if we come to you.
In-house safety training courses are ideal if you have a group of employees who need training together, making this option highly efficient as well as more affordable.
From Asbestos Awareness courses, to SMSTS and SSSTS training, NEBOSH qualifications and more, your health and safety training can be delivered in a way that best suits your business.
If your company has specific requirements we are delighted to write bespoke training for you or if you prefer we can adapt our existing courses to focus precisely on the type of work your company undertakes.